01/01/19
Sydney
Hi Sydney Dog Lovers! 
Thanks for your interest in Dogshare in Sydney. Dogshare started in Melbourne in 2015 but our Sydney membership has organically performed better than any other area. What can we say, Sydney siders love their dogs!
Since 2015 we've grown substantially and now have excellent coverage right across all Sydney Metropolitan areas. 


***COVID UPDATE*** 
We have been really inundated with helpers since the CV-19 and we are also finding that a lot of our dog owners aren't needing much assistance as many people are working from home and enjoying walking the dog 35 times a day!
We expect to see a huge shift in demand in a few more months when things return to normal and doggos adjust back from 35 walks a day to just the one.
So, if you are considering applying as a helper, just be aware that we have currently waitlisted all new helper applications and won't begin reviewing or approving these until either; 
Someone in our existing Sydney/Melbourne community indicates they need help
When the CV-19 drama is over, and we see our dog owner memberships pick up again
In the meantime, it would be super cool if you could let any dog owning people that you come across know about our service and the wonderful volunteers that we have waiting to help. 
HELPER Applications across Sydney ON HOLD currently. Dog Owners Welcome!   
Membership Coverage in Sydney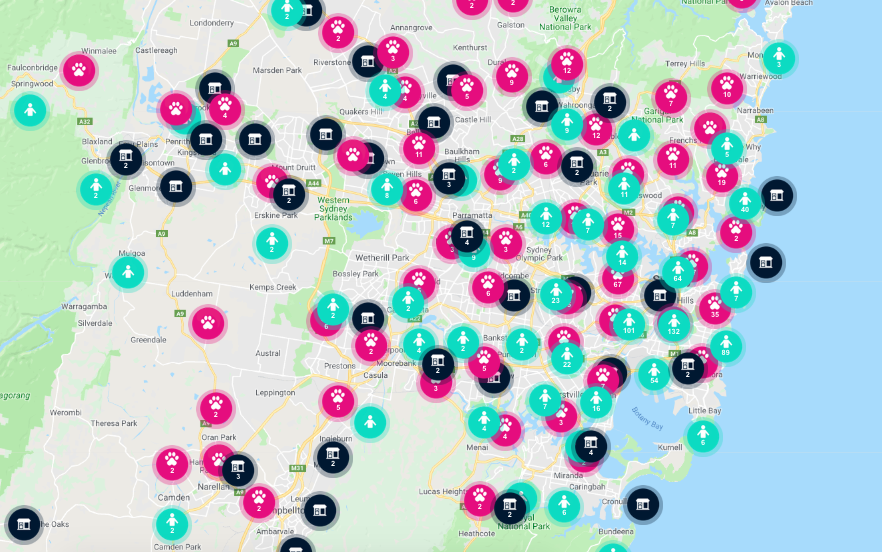 Pink = Dog Owners
Green = Helpers 
Blue = Local Businesses 
What if there are no members in my area? 
If you are within the Sydney Metro postcodes (Postcodes 2000 - 2234) but are on Sydney's outskirts where there doesn't appear to be high coverage please contact us to see if you are eligible for a Foundation membership in your area. Foundation memberships are provided free of charge to users in areas where we are still growing our offering. Note this only applies to areas with very poor coverage and this circumstance is rare within the Sydney Metro zone. 
All areas outside Sydney Metro (Postcodes higher than 2234) are eligible for a Foundation Membership. 
Questions? 
Shoot us a message here and we are happy to chat with you about membership in your particular area to ensure you are going to get a great result from your membership. 
Jess 🐾