24/06/19
Small Business with a big heart
The number of volunteers across Australia are increased by companies which have regular employee volunteering programs and it's not just the big corporates.  Small to medium sized businesses make up 95 per cent of all businesses in Australia and some of them have employee volunteering programs.  One small business, SMLXL Projects, provides design, construction, fit-out and refurbishment for workplaces, as well as having regular employee volunteering days.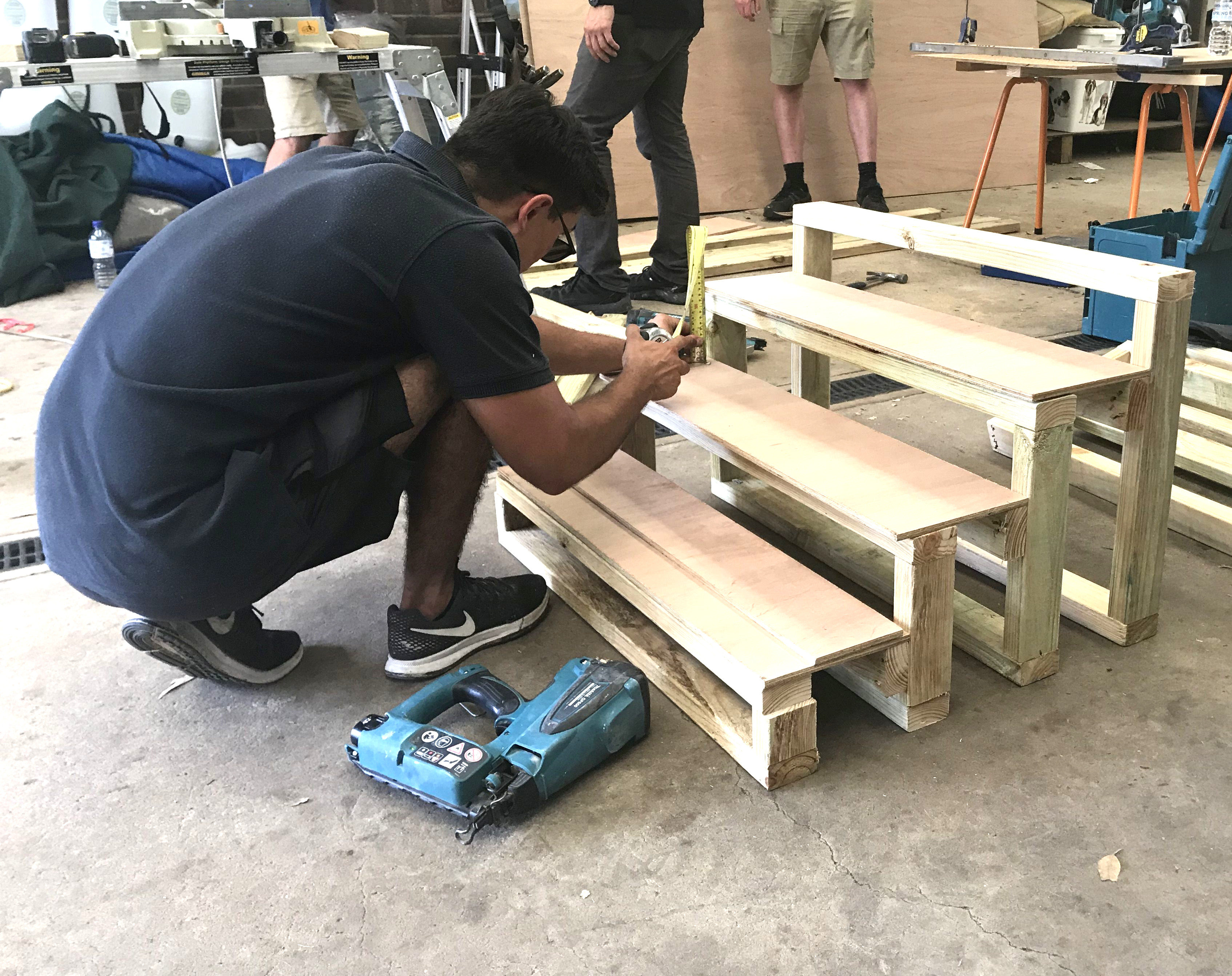 Five employees from SMLXL Projects visited Greyhound Rescue's (GR) kennels to use their construction and site skills to make much needed repairs and also built stairs for training.  "We had an amazing day with SMLXL.  They were super-efficient, talented and hardworking.  We really needed some stairs built so we could use them to introduce the greys to the concept of 'up' and 'down'," said Sue Bradshaw, GR's corporate volunteer coordinator.  "Most of these dogs have never lived in a house, so stairs are just one of the new-fangled things they face as a pet."  Business manager, Hannah Kynaston, said SMLXL Projects chose to volunteer with Greyhound Rescue because it is a very dog friendly company with its Director of Operations, Michael Ettrick, bringing his two dogs into the office most days.  "Michael suggested Greyhound Rescue for one of our corporate volunteering days. It's something we as a company feel passionate about," said Hannah.  "Also, we saw that the corporate volunteering program was really interactive and that we could get our sleeves rolled up and make a difference."   Hannah said SMLXL Projects supports corporate volunteering because it's important to give back.  "Each of our employees, including the two directors, dedicates eight hours of their time per quarter to a corporate volunteering program. We feel as a company that it's so important to give back and it gives us a tremendous boost to know we're making a difference," said Hannah.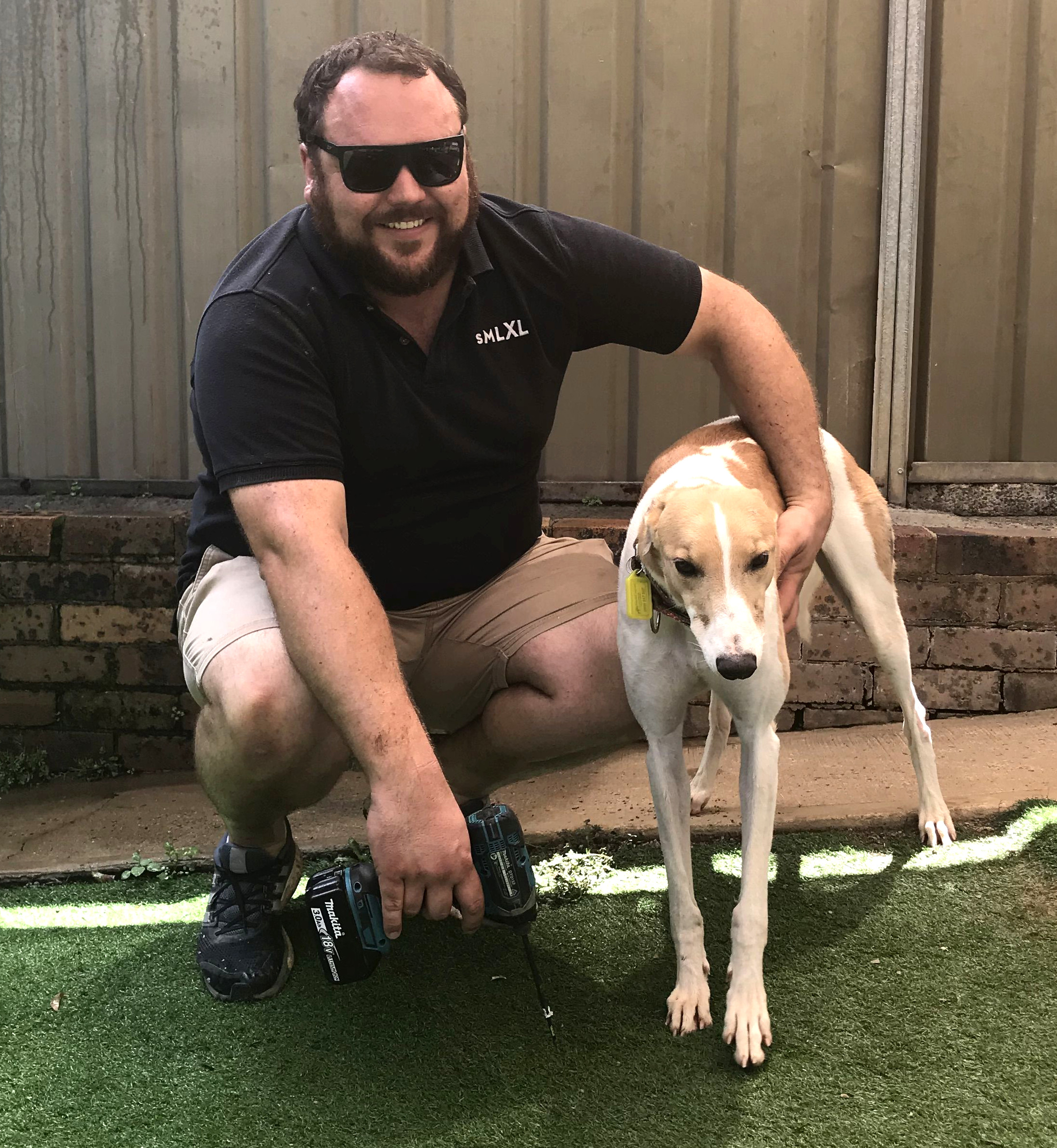 Every month, SMLXL staff research different ideas and form teams. Anyone can make a suggestion for a volunteering project.  "We find our engagement in corporate volunteering is great for team building and boosting morale. We hope to align with a diverse range of organisations and keep up the good work," said Hannah. GR's Sue Bradshaw said Greyhound Rescue gets great feedback from the companies and employees that choose to volunteer with the no-kill rescue, founded in 2009 by Janet Flann from her backyard on Sydney's north shore. "Many people have heard about the plight of greyhounds, but haven't had the chance to meet these wonderful dogs. Corporate volunteers are always charmed and delighted by the greys,"said Sue.  She said GR's own band of volunteers, which fluctuates between about 40 to 60 people at any one time, really needs supplementation via corporate volunteering in order to avoid burnout.  "We're always mindful that GR's existing volunteers also have family, work and personal lives. They can't do everything, so the corporate 'relief teams' are vital," Sue said. 
Greyhound Rescue has a no kill policy and is not affiliated with the racing industry.  
GR runs almost entirely with volunteer support and bankrolls itself from donations, which are tax deductible, and fundraising -www.facebook.com/pg/GreyhoundR... orwww.greyhoundrescue.com.au