04/02/19
DOG DATES FOR YOUR DIARY ::: FEBRUARY
Get those diaries at the ready as we are here ready to fill February with lots of fun doggy dates. 
Canine Capers at Polaris 3083 (Community Oval, Copernicus Crescent Bundoora, VIC) Saturday 2nd February
Bring your dog along to meet the neighbours at Polaris 3083. On the day, hear from a dog trainer specialist about dog behaviour, tips and tricks, plus treat your dog to a variety of treats from dog food business Get Wag. Portraits of your furry friends will be taken throughout the day
The day will consist of dog trainers dividing the day into the following topics –
10am-10:30am: Health Tips for looking after your dog
10:30am-11:40am: Workshops/Demonstrations with enrichment toys, loose lead walking and obedience training.
11:40am-12pm: Q & A with trainer
Heide Makers' Market Saturday 9th February 2019 
A collaboration between two well loved Melbourne institutions - Heide Museum of Modern Art and The Rose St. Artists' Market.

Set in the picturesque surrounds of the Heide Museum of Modern Art sculpture park, Heide Makers' Market is the perfect space for makers to showcase their works to the world.

On the second Saturday of every month you'll find an eclectic mix of art, design and handcrafted goods all made with skill by our fabulous stallholders - so get inspired and plan your visit to the Heide Makers' Market today.
Amazing doggy stall holders Clementines Rescue Soap and Willows Pantry Artisian Dog Treats ar
e attending for all your high quality soap and treat needs! 
Tails and Ales Valentines Dog Day (Public House, 292 Stanmore Rd, Petersham NSW 2049) Saturday 9th February 2019
If there is anyone you can always count on for unconditional love, it is our furry friends and Valentine's Day is the perfect time to show our four-legged besties just how much we love them! 
This Event sees the collaboration between Pound Paws and Public House Petersham they are coming together mainly to raise awareness about pet adoption as well as coming together to celebrate the wonderful companionship we have with our pets.
All Barking Brides and Panting Grooms are welcome!
PETstock National Pet Adoption Day 2019. (Sydney) Saturday 9th February
PETstock Assist in partnership with not-for-profit charity PetRescue will be running its 5th annual National Pet Adoption Day in February to help find forever homes for pets all over Australia. The Adoption day will run on Saturday 9th of February 2019 from 10am to 2pm (10am-3pm in Western Australia), in more than 135 PETstock stores around the country. Last year's campaign saw 520 pets find loving homes. Yet, there is still more work to do, with an estimated 200,000 pets living unclaimed in Australian shelters and pounds across Australia. In 2019, PETstock hopes to outmatch last year's adoption numbers and find even more healthy, happy pets forever homes.
The National Pet Adoption Day is a great opportunity to remind those that are looking to add a new member to their family, that they should adopt, not buy a pet this year and help an animal in need.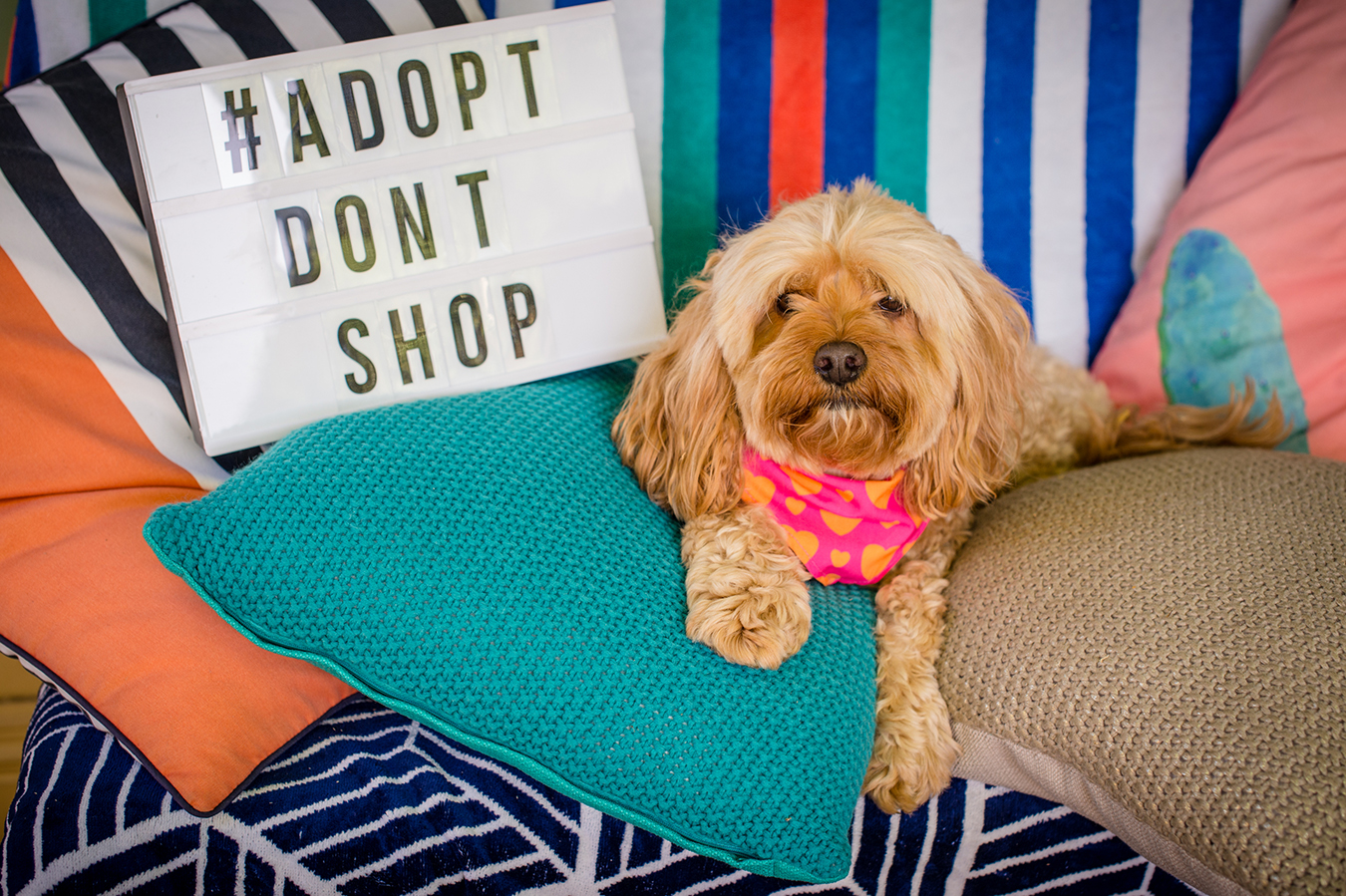 Dating with Dogs (The Old Canberra Inn, 195 Mouat Street, Lyneham) Sunday 10th February
There is a reason that there are so many photos of dogs on Tinder - who doesn't love a cute puppy? They're easy to swoon over and if you have nothing to talk about at least you can talk about them.
But what if the dog was right there, being your awesome wingman? 
That's precisely what Dating with Dogs is all about! As featured on Channel 7's Sunrise, Dating with Dogs is a sure fire way to make a connection and meet some fellow dog-lovers in a fun and flirty atmosphere. Bring your own dog and find a Lady and the Tramp type love connection, or come dateless and dog-less for a chance to get offline and pat some dogs.
You may even get some heavy petting with the owners if you play your cards right!
Yarraville Festival 2019 Annual Dog Parade (Yarraville, Victoria) Sunday 17th February
Our Yarraville Community has a huge variety of family members that come on all fours. Does your fur friend have a fancy dress costume or know a few cool tricks? It's time for them to strut their stuff on the cat–dogwalk!
The Parade is both a dress up and a dog trick parade with a prize for the best act/outfit. 1st, 2nd, 3rd and spot prizes too.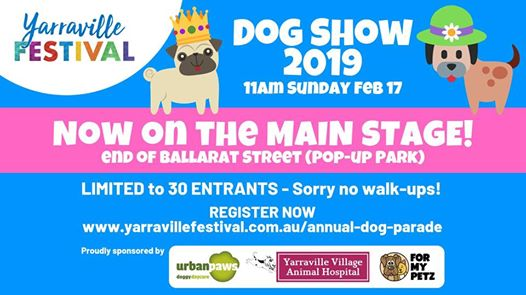 Fun Day Nudgee Beach (Tuckeroo Park, 1558 Nudgee Rd, Brisbane, Queensland) Sunday 17th February 
Our next fun day is at Tuckeroo Park, Nudgee Beach Rd, Nudgee Beach. Please be aware this is an Off Leash Dog Park. You can expect plenty of give aways and a raffle whilst the dogs will be able to run and swim freely within the park Everyone please bring a small plate of yummies for the humans to share for morning tea on the day.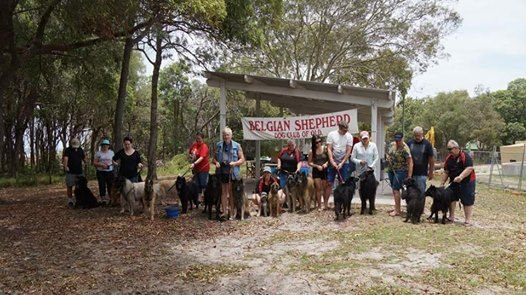 Dog Adventure Park Launch Party Macadamia Loop, Piara Waters WA 6112, Australia
Sunday 17th February
An awesome new playground in Stockland Newhaven, Piara Waters is opening for our pooches. Come on down and help us celebrate its opening with a carnival themed morning for all.
The morning will include the following -Free puppy'cinos - Free pooch grooming & paw'dicures - Free Monkey Nuts 'banana peanut' pupcakes, Grain Free Beef pupcakes, Chicken and Kangaroo Bites plus Dogscotti - perfect with a puppy'cino! - Pooch kissing booth - Doggie Photobooth ( with photo's you can take home ) - Pooch face painting ( for the kids ) - Carnival games & giveaways - Free balloons - Free popcorn - Free coffee - Free sausage sizzle
This is one for all the family and definitely one not to be missed!
Street Paws Festival Inner West (The Addison Road Community Centre, Marrickville) Saturday 23rd February
It's back again! This is a great Event for the community to come together and celebrate everything that is dog. What can you expect at our festival....
Plenty of fantastic stalls from pet accessories to dogs grooming
Quirky competitions for your pooches. 
Training, educational and medical advice,
Lots of freebies.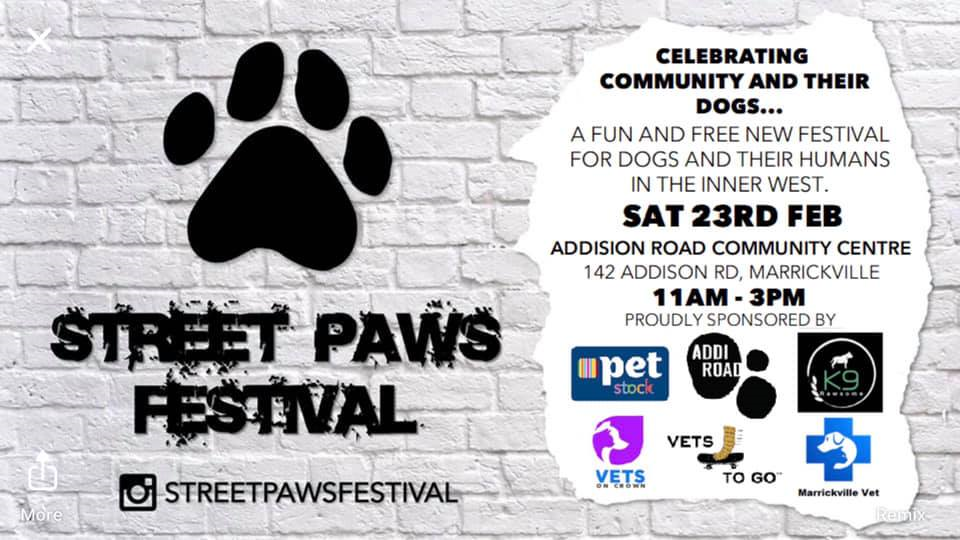 Paws Explores TRIVIA PAWsuit Adventure (The Dog Café 120 Boronia Road Boronia) Sunday 24th February
Paws Explores Adventures Is having Trivia PAWSUIT Come down and help them raise some money for a worthy cause all whilst having some fun. A hundred percent of all proceeds From all our fundraisers are donated. The cause is for our struggling farmers Which is why our event was created.
And you thought January was busy!