20/02/19
DOG DATES FOR YOUR DIARY ::: MARCH
Stamford Hotel's Dog Day (Stamford Hotel, Rowville)
Saturday 2nd March 
Pound Paws are back again with another Event not to be missed. This is a day full of activities all in aid of helping to rehome doggies!
Come join us for a paw-some day full of activities, which is guaranteed to get tails wagging! 
You can expect 
Live Entertainment & Music ~
Rescue Dog Stalls
Food Stalls 
Pet Business Stalls ~ from doggie clothes to professional doggie photo shoots... We will be posting more details on this event page - with direct links to businesses over next few weeks.
Rescue Dog Adoption Parade
Plus much much more.
Dog walk and Pet Market Day (Footscray Park, Victoria)
Sunday 3rd March
Join us for a 4km walk of the Maribyrnong River from Angler's Tavern finishing up with a Pet's Items Only Market Day in Footscray Park. 
Register to walk click here
If you'd like to register as a stall holder click here
All proceeds go to Second Chance Animal Rescue to support us in rescuing and rehoming abandoned pets, ensuring they are healthy, safe and find new forever homes.
Woof at Whiteman (Whiteman Park, Perth) 
Sunday 10th March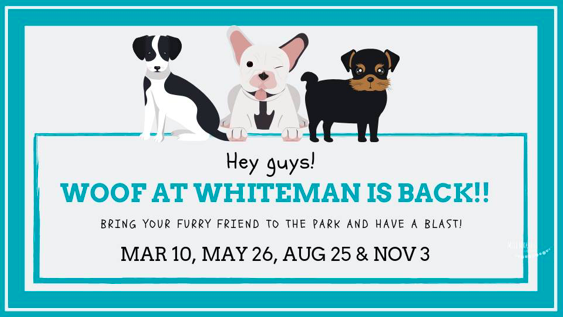 Back due to previous success this is sure to be a fun filled day

Running in conjunction with our Made-It Markets is WOOF, a dog-friendly event with lots of stalls for your furry friend, and loads of four-legged friends to meet!
There will also be the available on offer
Food trucks and beverage vendors on site 
Kids entertainment, 
Live music 
And all in a stunning natural bushland location.
Dogapalooza Adelaide Dog-Friendly Music Festival (Orphanage Park, Millswood)
Sunday 17th March 
The green lawns of Orphanage Park (Millswood) will be transformed into a boutique, dog-friendly micro-music festival that the whole family can enjoy! Various Australian Musicians are set to perform for an audience of canines and their two legged companions for Dogapalooza at the 2019 Adelaide Fringe.
Darebin Pet Expo (Edwardes Lake, Victoria)
Sunday 24th March


The Darebin Pet Expo is back in 2019 so come and help us celebrate all the things that we love about our pets!
This is your opportunity to connect and meet with rescue groups, animal businesses, vets, animal behaviourists, specialist dog trainers, obedience clubs and many other people (and pooches) in the animal industry!
This is a free community event and is held in conjunction with the Darebin Community and Kite Festival.
There will be plenty to do and see for the whole family, including a live wildlife show.
Pets in the Park (Central Park, Melbourne)
Sunday 24th March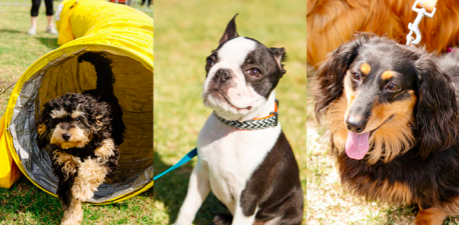 You and your furry friend can join in the fun, enter competitions, and maybe even get up close and personal with some critters of the more exotic kind at this family friendly event held in Central Park.

Knox Pets In The Park – (Gilbert Park Reserve, Ferntree Gully Road, Knoxfield)
Sunday 31 March 2019
Treat your pet and the whole family to a fantastic day of free entertainment and giveaways
Spoil your pet with tasty gourmet pet food, the latest in pet accessories and toys and indulge in grooming services and products. You can even find assistance with training your naughty pet!
You can expect…
Free Activities
Stage Entertainment
Face Painting
Cattle Dog demonstrations
Demo Area
Kids Rides
Animal Farm
Dogs in the Park (Maitland Park, Devonshire)
Sunday 31st March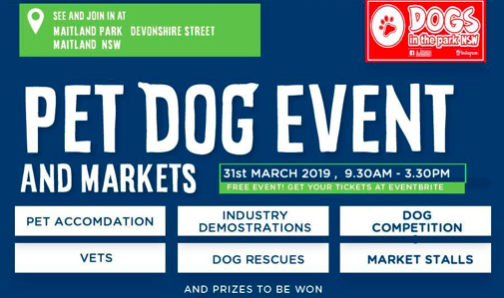 Dogs in the Park always prove popular and definitely not one to miss. You and your doggy can expect plenty of fun throughout the day
Dog Demonstrations
Rescue Groups & Dog Competitions. 
Dog sports demonstrations, 
Plenty of competitions 
The opportunity also exists to raise money for a dog-related charitable organisation such Various Doggie Rescue.
AMRAA Dog Sledding and Adoption Day (Mandalong)
Sunday 31st March

 Come and meet the dogs, see what goes on at our sanctuary and give sledding ago!